online sales currently suspended
Contact Coraggio
if you are interested in making a purchase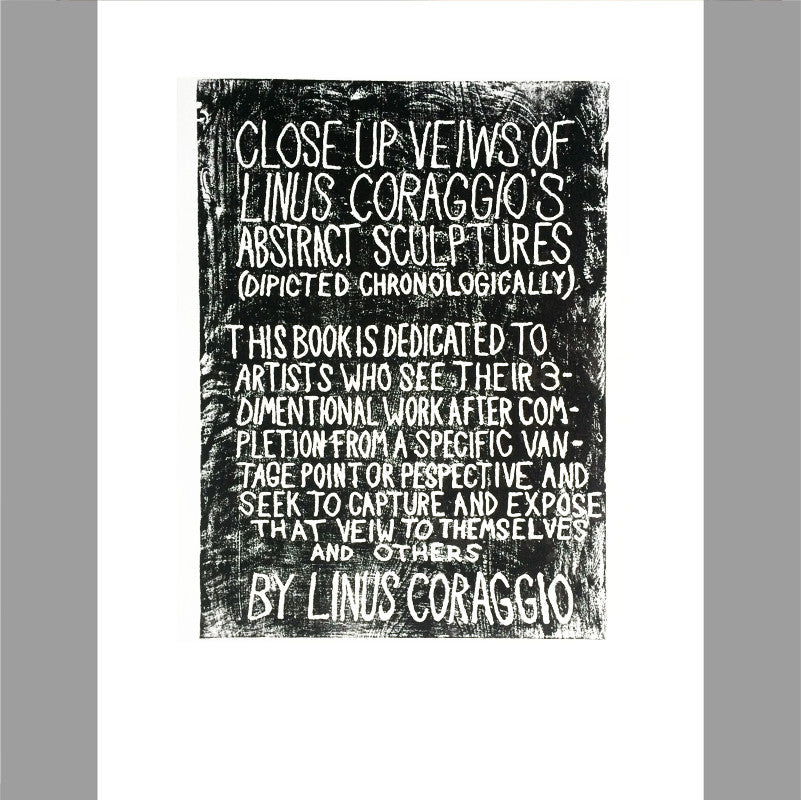 Woodcut Print Book (Boxed Set of All 22)
This 22-page book of woodcut prints constitutes a survey of 25 years of Linus Coraggio's sculpture. The artist has produced 20 editions of the book, each as a boxed set of 24 pages total (22 woodcuts plus a title page and colophon).
A limited number of individual (unnumbered) artist proof prints are available for $300 each. Each is signed by the artist and labeled "artist's proof" with no numbered sequence.
As the artist printed each woodcut by hand, each print enjoys its own uniqueness in regard to the saturation and coverage of the oil-based inks used. Coraggio proudly refers to this non-uniform quality as his "punk-rock school of printing."
For the woodcut's subjects, the sculptor chose 22 of his sculptures from the 1985–2010 period, and captured his favorite view, perspective or vantage point of each so as to reveal that mental "freeze frame" to the rest of the world. The prints, therefore, enable the viewer to see artwork through the artist's eye.
We have chosen half of the book's prints to feature in the thumbnail images at left. Click any thumbnail image to view, or view all 22 prints individually by clicking here.